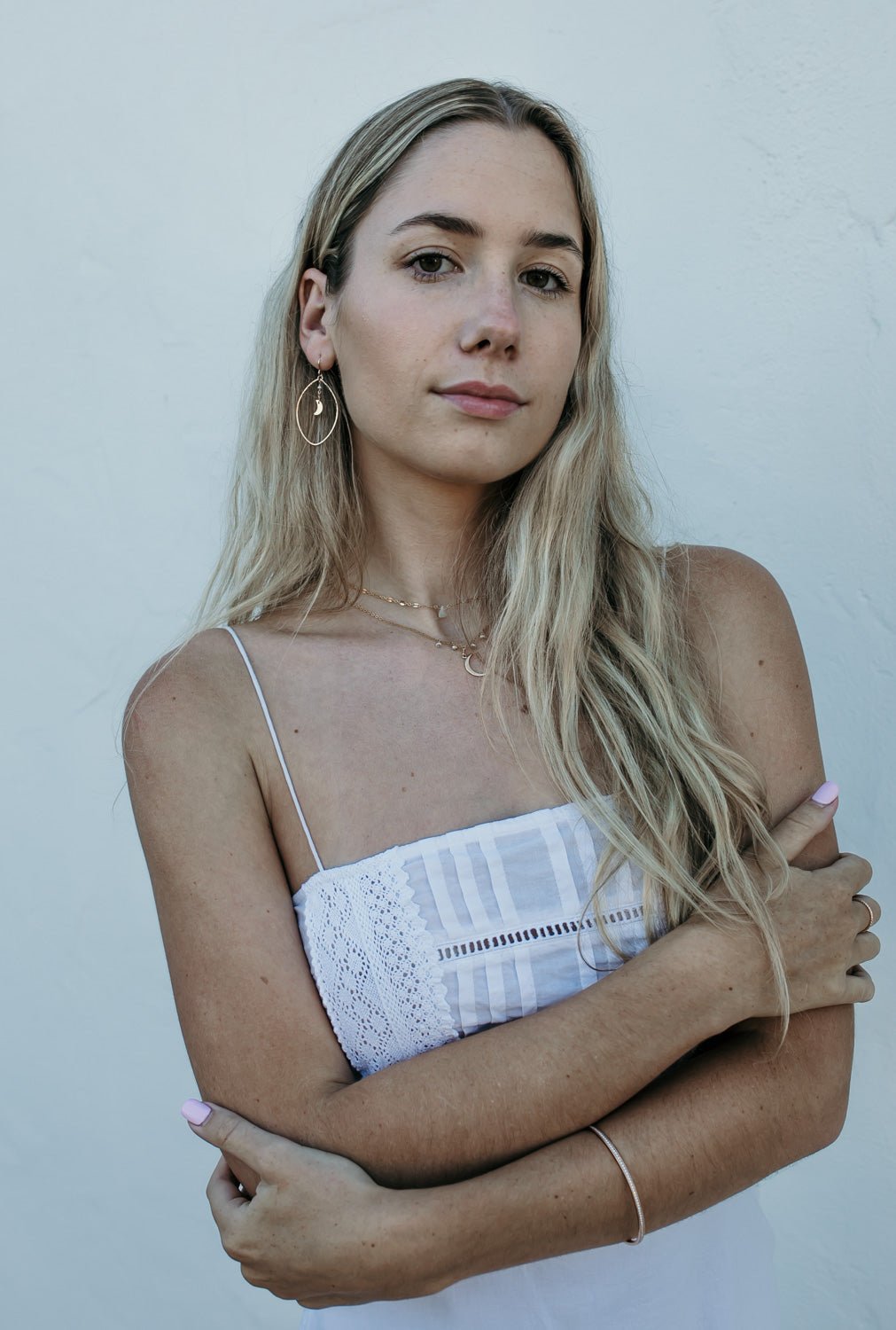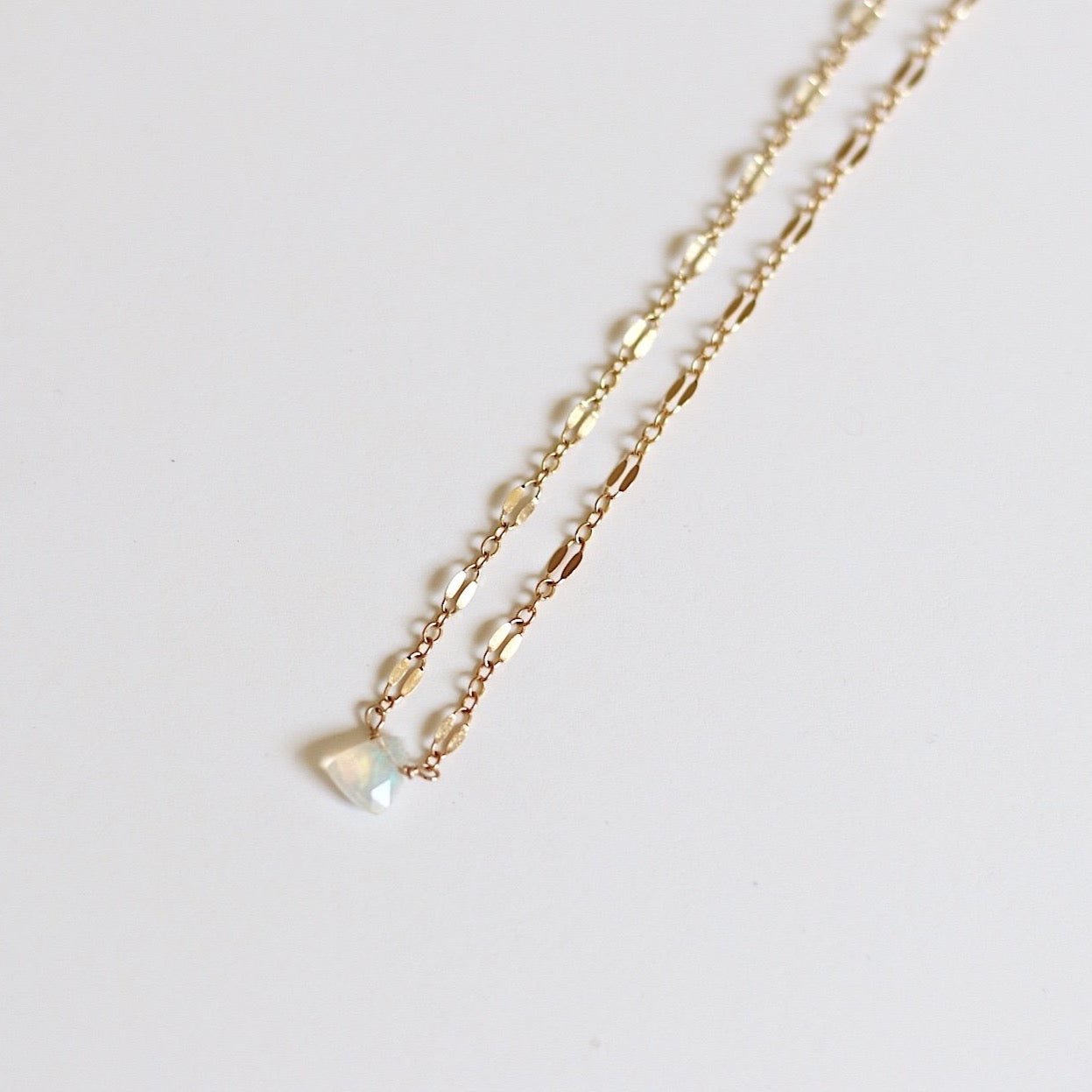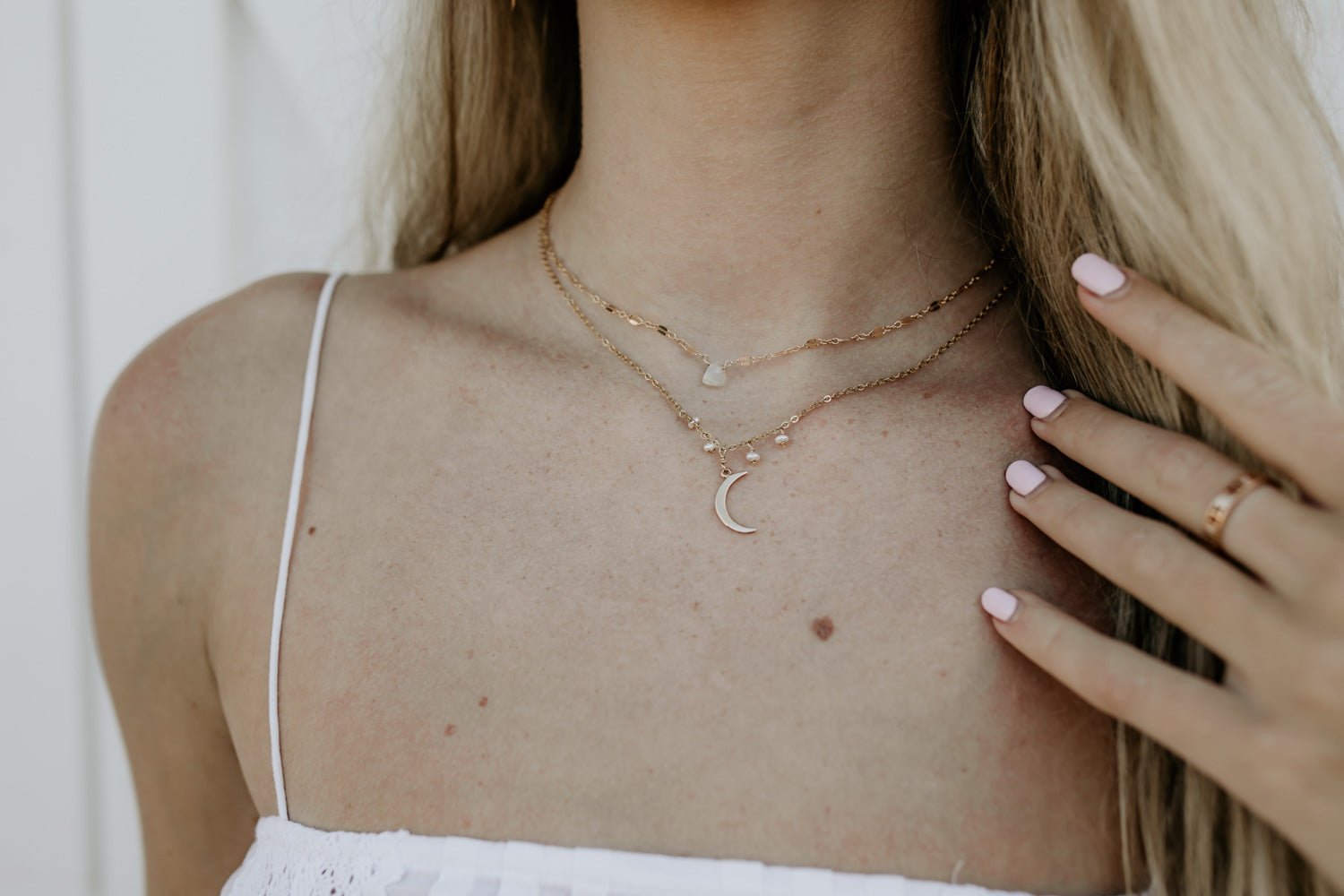 Fiery Opal Lillie Necklace
Details:


~Gold-filled.
~Fiery Ethiopian opal.
~9mm lobster clasp.
~Measures 15".
~1" extension that allows you to adjust the length of the necklace.
~Little gem embellishment stone on the end of the extension chain.
A little about my Ethiopian opal..

This piece is created with a particular kind of opal called Hydrophane Opals. All opals contain water, some up to 20%. In Hydrophane Opals, the amount of water fluctuates based on things like humidity, weather, chemicals, and contact with water. When an opal's water contents change, so can the opal's color. (It's a modern-day mood ring!)

To avoid color change:
- Don't fully submerge your opal in water.
-Avoid exposing opals to extreme weather and extreme light + dark.
- Store opal jewelry in a sealed container.
-Do not use chemical cleaners and take opals off before applying makeup or hair products.
- I don't recommend this piece for everyday wear. Instead, reach for it when you want to sparkle up an especially dull day.

Remember, color change isn't necessarily a bad thing. It can make your pieces look even more enjoyable. If you have specific questions contact me here.
To brighten up your gold-filled or sterling silver pieces, gently rub with your cleaning cloth included in all orders.
________________

Store in your satin jewelry pouch when you aren't wearing your jewels!
________________
We recommend removing jewelry before:

~Applying makeup, lotion, perfume, or any other beauty products.
~Bathing or swimming.
~Cleaning the house or using harsh chemicals of any kind.
~If your jewelry does come into contact with water, gently pat dry.

We use 14 kt gold-filled and sterling silver metal. 
Gold-filled is solid gold fused onto a base metal (usually sterling silver or brass) it is different than gold plated as it will not rub off or flake off. It's a wonderful cost effective alternative to solid gold. 
If stored and cared for properly it can last a lifetime.
Because here we believe in slow fashion. We make each piece by hand when it's ordered. By committing to this practice we both minimize waste and give each piece the time and energy it deserves. Currently we are working within a 2 week lead time for most jewelry pieces. Some more intricate pieces take up to 8 weeks, check each individual listing for lead times. Still unsure if your pieces will make it to you by your sisters birthday? Contact Tree directly to discuss a rushed timeline!
Visit our FAQ page for more info.
We donate % of all profits to Ocean Connectors --
Ocean Connectors engages youth from underserved communities in conservation through long-term environmental education, field trips, and bilingual curriculum across the U.S. and Mexico.